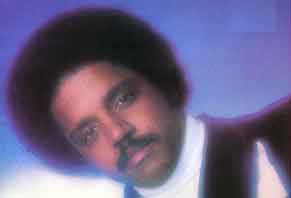 He looks like when God asked him to leave heaven, God said, "Dexter, I know you got that crazy funk and you're bringing it all up in here, but now I need you to go out there, beyond the gates of heaven to spread that mean ol' funk of yours, okay?"
And Dexter said, "My man, you speak the truth. There are bruthas and sistas whose eyes are closed to the Lord cuz they ain't experienced that glorious funk that can change their lives. And I'm gonna find those people and touch 'em so they can be saved in the name of our righteous Lord and the Funky Revolution." So he packed up his electronic keyboard and an assortment of velvet suits and mock turtlenecks, picked his fro nice and high, and strutted out of those gates to spread the funk in the name of the Lord.
As the gates closed behind Dexter, St. Peter whispered to God, "You are aware that by funk, he thinks you're talking about music, right?"
"I don't care what that moron thinks," said God. "My crotch and everyone else's has been itching like a mah'fucker ever since that guy got here, so he can go on and spread his nasty funk someplace else."