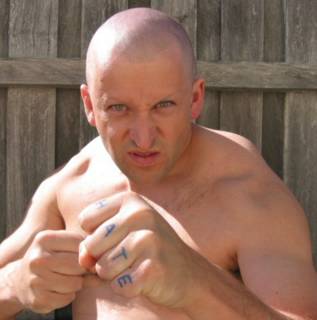 He looks like he's constantly being mistaken for a neo-Nazi ever since that night he got really drunk and his frat brothers convinced him to get their house address tattooed onto his hand so he'd be able to find his way back home. What people don't notice right away is that the tattoo actually wraps around his hand and reads:
18742 S
HATE
RFORD ROAD (THE
BIG HOUSE RIG
HT BEHIND MANNY'S
LOCO TAC
O SHACK &
PASTRAMI, NEXT DOOR TO
THE ENTERP
RISE RENT-A-CAR)
DON'T BLOCK THE DRIVEWAY, THANKS.
But while this look comes in handy when convincing the snooty maitre'd at the French bistro that he is surely NOT going to pay for his salad when he specifically asked for no tomatoes, and yet his salad looks like some giant tomato-eating robot took a big heaping tomato dump on it, people tend to judge him by his appearance and neglect getting to know the real him. He's actually a very cheerful guy with a sweet, sensitive disposition. He likes sunsets over the ocean and the clean smell of the air after it rains. His favorite color is aqua and he cites his mother as his role model. In his spare time, he likes to write poetry and paint landscapes, as well as spend time with his two cats, Lady Lovely and Mr. Butterball. If there is one thing he could tell the world, it would be...he's devastated that Brad and Jen couldn't work it out.