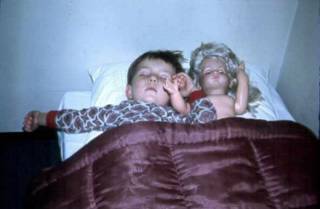 He looks like Dr. Sebastian Reichmann-Lowenstein, the famed behavioral psychologist whose work in analyzing human behavior in high stress environments has led to much understanding of the effects of war and poverty. While little about the man's personal life had previously been known other than his having married eight times, much light was shed by the publication of an unfinished autobiographical manuscript that was discovered after his untimely death at the age of 64.
Here is an excerpt from this manuscript:
My mother was a cold woman. While she did not possess the disposition necessary to be a nurturer, she nevertheless proceeded to bear a child for reasons unexplained. I remember my childhood as one of encouraged intellectual curiosity, molded under the watchful eye of both parents, who were rogue Freudian psychoanalysts recently emigrated from Zurich to Cincinnati, Ohio.
Mummy was often engrossed in her work, and the terrible neuroses projected onto her by her patients drove her to a passionate secret affair with Portuguese brandy, which she often snuck after dinner from a bottle hidden behind a shoe rack in her closet. I found her asleep at the foot of the stairs in a pool of urine with her hose bunched around her ankles on so many occasions, I finally gave up on scrubbing her hose with soap and merely ran them quickly under hot water before setting them out to dry, so that when she wore them again, the pungent smell of human waste would be evident in public once her body heat warmed the garment. In hindsight, this behavior was quite passive aggressive, but I do not feel the need to assume contrition. Father was a kind but physically infirmed man who was equally consumed by the mysteries of the human mind. Together, they were brilliant analysts who seemed to regard me as an unregulated test subject with which to exercise their eccentric theories.
They quite enjoyed sitting in the background and observing me in my daily dealings with both adults and other children, never encouraging or reprimanding, but quietly taking notes and whispering to one another. They kept a ledger next to my bed with meticulous records of my psyche's development, from which I was encouraged to view when I was old enough to read. It was from here that I later learned that I was particularly resistant to relinquishing my anal phase, as I seemed to almost defiantly refuse to recognize when and where it was appropriate to dispel waste.
My parents blamed it on an unresolved fascination with my mother and the womb from which I sprang and as a result, when I reached the age of 4, rather than buying me the rocking horse in which I quite fervently desired, they bought me a plastic female doll, with hair not unlike my own mother's. As this was the only item allotted to me which I could claim as solely mine, I soon became quite possessive and protective of it, keeping it clutched tightly in my arms at all times. This doll became as real to me as any other living and breathing person, and I named her Judy. Judy was the love of my formative years. As our relationship developed, I blamed her clothing for her inability to change or grow as I was and I banished them from her body.
Soon I shunned the company of other children, as the attention of Judy was enough to keep me satisfied. Together, we explored the mysteries of the world and each other, and I truly believed I would need nothing else of the world other than my dear, compassionate, hilarious Judy.
And it was with her help, that I ceased my habit of defecating into the produce bin of our icebox before suppertime.
When I turned 9 years of age, an official of the community approached my parents in regards to my schooling. By definition, I was homeschooled but in truth, my parents wanted me free of institution and to discover my own place and the projections of my psyche within the collective of the world. But after threats from this official, I was soon shipped off to Lincoln Elementary, where I spent the rest of my developmental years miserable in the public school system.
Judy's presence in my arms from the first moment at school quickly made me a target of stronger and more aggressive children whose mothers fed them excessive amounts of bovine milk. Before the day was over, Judy had disappeared from my desk, leaving me wailing inconsolably for hours until her charred remains were found in the field behind the yard. The culprits never came forward and after years of grieving, I submersed myself within my studies, soon obsessively engrossed in a career based solely on refuting the work of my parents. Now looking back upon my years, I believe I never did truly recovered from the loss of my first true love, though I did try many, many times to replace her companionship with lesser others.
After excerpts of this manuscript were published in the New York Times, Mitzi Goldberg, his first wife, confided in a friend, "I always had this strange feeling that the complexity of my anatomy made him somewhat uneasy." To which her friend replied, "Honey, it's cuz you're anatomically correct."